I gave my 6th grade students their first quiz in my subject. It was short but tricky enough to make it difficult for anyone to get a perfect score – and really no one did.
When my students got their papers back and knew what their score was, one of my students called my attention and pointed one of their classmates. I didn't understand what she was trying to tell me until I saw their classmate with his head bowed down, crying.
He is one of the top students. He is knowledgeable, diligent, somehow competitive and quite a perfectionist. I did not approach him until after I dismissed the class. When most of the students left the room for recess, I sat beside my downhearted student.
He didn't lift his head but kept his palms on his face when I tried to talk to him. He was still sobbing. I told him that the only mistake he did was not following instructions. The instruction was to encircle the item that does not describe the given noun. He did the opposite and got 1 out of 20. I tried to comfort him by telling him that I know he understands the concept of the lesson. He knows what the different kinds of nouns are. It was just that the instructions tricked the best out of him.
He was still in face-palm when I asked him what he was thinking at the moment. In a sobbing voice, he asked, "What's next?" He was thinking and worrying of what will happen next.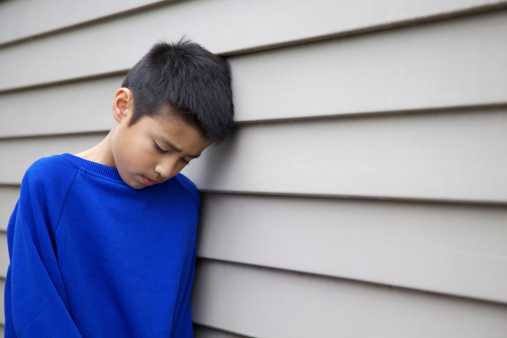 Don't we ask the same question sometimes? When we experience failure, a painful rejection,  when we hit rock bottom, don't we ask almost the same question? Don't we worry about what's next? What will I do? How will I make things right? How will I get through this? What will people say or think of me? Will they understand? Can they really forgive me?
Being one of the top students in class, the young boy beside me could be worrying about not meeting what is expected of him or about staying on top or about his parents. How can this happen to me? How could I missed the instruction? What will my mom say? What about my grades? Can I still pull it up? 
I remember some of the things I told my student after he asked:
What's next?
What you are learning now is far beyond what we have discussed about nouns. I know you understand what our lesson is. But I think there is another lesson that this situation is trying to teach you. Maybe it's not just what you know about our topic in class, maybe what happened is more about what your heart needs to learn about life. Today is not just an ordinary English class. What you have here in this paper is just a number. A few months or years from today, this number will not matter anymore. What will stand significant is what it is that your heart is learning from your experience today. You may have failed the quiz, but if you will grasp what it means to be resilient – to try again and to never give up – you are more than a victor. Those are life lessons not everyone is able to pass. But you, I know you will. This experience is an education of the heart.
What is life teaching us lately? Is it about resiliency and perseverance? Is it also about not giving up? Or is life teaching us about forgiveness? About trust and surrender? What lessons of life is God permitting our hearts to go through? No matter what it is, I'm sure that as long as we keep our eyes on Jesus and not on the pain of failure, not on our fears and not on the brokenness of this world, that too shall pass. You, too, will get through.
What's next?
Fix your eyes on Jesus. Surrender. Trust. All great stories know what it means to be afraid, to fail, to try again, and to keep going.
With hope for the better days,
  Ish